Our followers know – families are why we do what we do.With no treatments available, RUN DIPG are committed to supporting research that changes outcomes for DIPG patients and their families. We have, with the permission and support from our incredible families, shared the stories of DIPG patients and their families, their networks and the incredible events and initiatives they have created.
RUN DIPG provides hope for future parents that will have a child diagnosed with DIPG. Hope is all we have right now. When Tori was diagnosed there wasn't any hope, it was only making memories.  
RUN DIPG has been founded and managed by the most incredible people. Matt and Phoebe know first-hand the devastation of a DIPG diagnosis, but it is for this reason that the support and empathy provided by the organisation are second-to-none. The relationship that my family and I have developed with RUN DIPG as we create Ahlia's Legacy, is a genuine bond that will continue to strengthen over time.
Matt, Phoebe and RUN DIPG helped my family understand what was happening to my daughter Evie. RUN DIPG is our charity, and we will advocate for the next family to be devastated by this horrific disease. RUN DIPG is our only charity.
We know there is no other team as committed to finding a cure than the team at RUN DIPG. In 2022 we donated Harper's tumour cells to RUN DIPG for research. We feel comfort in knowing they are in good hands and will be used to help other children diagnosed with DIPG.  We also value knowing how her cells are being used in any research undertaken. 

It has been an honour working alongside the team at RUN DIPG in creating awareness and raising funds for vital research. Most importantly, it has allowed us to honour Harper's legacy. From the very day we connected with Matt, we have felt part of the wider DIPG community.  
The embodiment of generous contributions, selfless deeds and with progressive research at its heart, RUN DIPG is giving us the hope we so desperately need.
Dun Lab on Display –
The Cancer Signalling Research Group Host Guests of Honour in 2021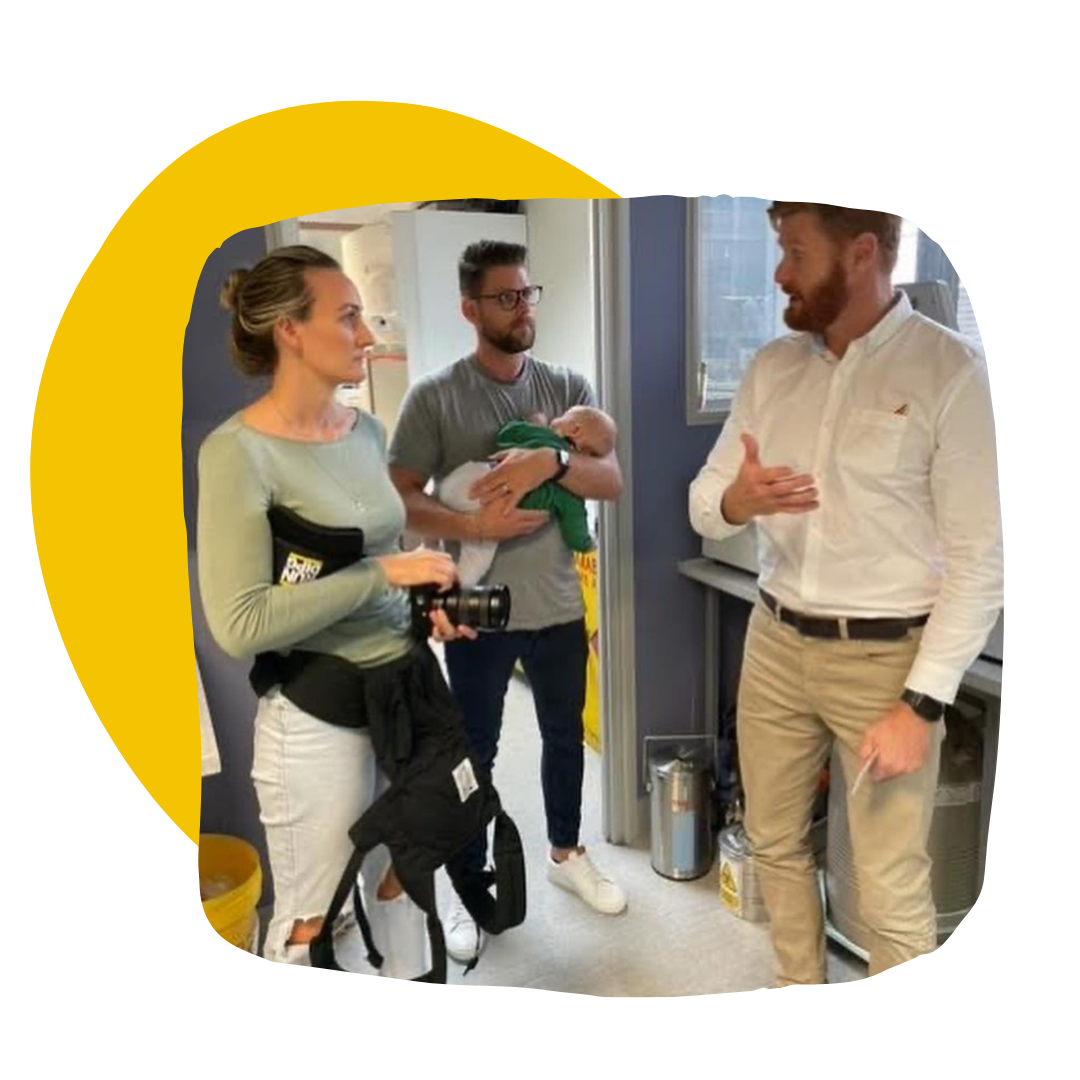 The Dun Lab team welcomed Helena and Lee Dowdall (and their son Brooklyn) to the campus in May 2021. Having lost their daughter Harper to DIPG, the Dowdall Family were keen to get an inside look at how DIPG research may be able to help families that find themselves in a similar position, in the future.
Helena and Lee were able to see the living DIPG models cultured by Matt and the Cancer Signalling Group, including the cell lines grown from Maddie's and Josephine's tumour tissue, and have since decided to donate Harper's biobanked tumour sample to the University of Newcastle research program.
Committed to enhancing DIPG research and the work of RUN DIPG, Helena and Lee hold their annual "Hundred4Harper" fundraiser on Sydney's Northern Beaches, in honour of their beautiful girl that was taken by DIPG all too soon. Helena and Lee, thank you for taking the time to make the trip to Newcastle and for your ongoing commitment to improving the battle faced by kids and families
If ever there were special guests, Miss Maddie Suy was very much the most 'special-est'. Diagnosed with DIPG in 2020, Maddie and her father Alan visited The University of Newcastle in March 2021.
The youngest visitor to put Matt through his paces, Maddie was inquisitive and attentive throughout the tour – she was even able to see her own tumour cells growing in the lab! Tissue donations like Maddie's are instrumental to DIPG research, so it was a highlight for the team to be able to show Alan and Maddie just how much work they've made possible with their important decision to be involved.
Alan thank you for taking the time to see the work of Matt and the Cancer Signalling Research Group first-hand, for trusting the Dun Lab with Maddie's precious tissue donation and for your ongoing advocacy to improve outcomes for kids and families facing DIPG.