A teenage dream

for DIPG research

Jemima Gazley was determined to ensure the future looked brighter for other children diagnosed with the aggressive brain stem cancer that claimed her life last week.

The New Zealand teenager inspired a fundraiser that is poised to deliver close to $700,000 to support a Newcastle cancer researcher's efforts to find a cure for DIPG – or diffuse intrinsic pontine glioma.

But even as her loved ones prayed for a miracle, the 15-year-old girl from Wellington was making plans to donate her brain tissue to the cause. She dreamed her gift would help Associate Professor Matt Dun and his team unlock the clues to find a cure for DIPG.

That by being part of the answer, the victim may ultimately become the victor.
"My wife said it beautifully in her eulogy – we prayed for a cure for Jemima, but per haps, Jemima is the cure," her father, Oliver Gazley, said.
It was in February that Jemima, then 14, woke up with a headache, feeling dizzy. Nausea followed, and her parents took her to hospital when they noticed her face seemed slightly off balance.
A week later, she was diagnosed with stage four DIPG.
The tumour, which had grown like a spiderweb, was inoperable. Incurable. Terminal.
"Nobody had any answers or advice for us other than 'Go home and make nice memories'," Mr Gazley said. They were still in hospital in Christchurch when Jemima's mother – Ray Gazley began searching for a glimmer of hope.
She found Matt Dun.
"His name kept coming up, as Matt lost his daughter, Josephine, to the same disease when she was four years old," Mr Gazley said. "What we discovered in New Zealand is that doctors never give out their phone numbers. It is a 'leave a message with my PA, see you in two weeks' situation.
"My wife found Dr Dun's phone number and called it, expecting the same sort of treatment, and Matt picked up the phone after two rings. "From there on it was, 'If there is anything you need, anything I can do, I am here for you'. We couldn't get that from any doctor in New Zealand. That's how we got to the point of wanting to support his cause and raise money for him."
Jemima hosted a "celebration of life" party – inviting everyone who had sent a card, provided a meal, or offered support to the family since her diagnosis. She announced she was donating her life savings to Dun's Hunter-based charity, RUN DIPG, and thanks to connections with New Zealand director Taika Waititi (JoJo Rabbit, Thor: Ragnarok) and actor Mike Minogue (Wellington Para-normal ) – her efforts, and her story, attracted the attention of Hollywood celebrities such as Chris Hemsworth, Mark Ruffalo, comedian John Mulaney, and RuPaul.
"Jem and I were in ICU after her craniotomy and she wanted to watch a John Mulaney special on TV. She loved him," Mr Gazley said.
"But Jemima laughed so hard she started vomiting. And the nurse made us turn it off. I grew up with Taika Waititi. I hadn't been in touch with him for 20 years, but he was amazing. He managed to track down John Mulaney for me, who sent a message to Jemima. Then Taika got a whole lot of other celebrities to do the same.
"What that did for her spirit… The day she got the message from RuPaul she was actually laying in bed, watching RuPaul's Drag Race, when it came through to her phone.
"I was in the other room and I thought she was having a seizure, she was screaming. She was so excited."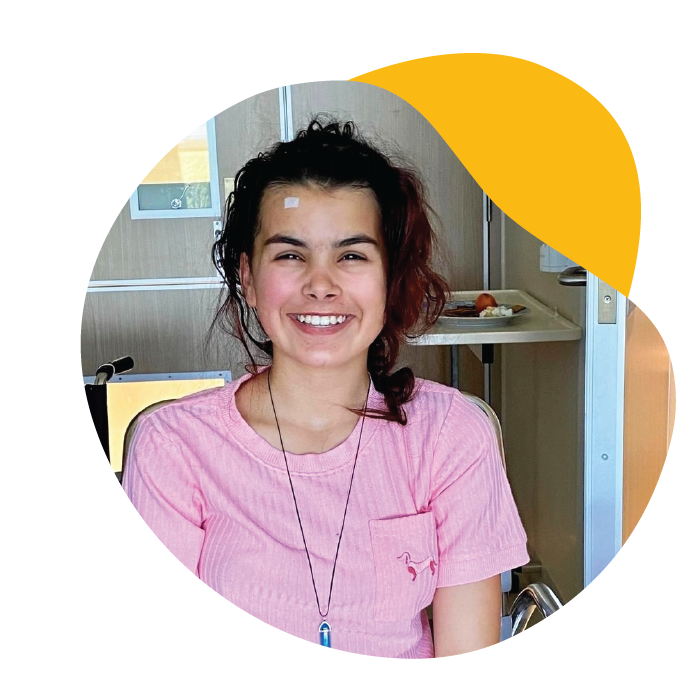 Jemima had spoken directly to Dun about her desire for her brain tumour tissue to be collected immediately after her death and delivered to his Newcastle lab.
"Jemima was so passionate about helping. I knew she wanted to donate, but I hadn't realised how far down the track her plans were," Mr Gazley said.
"I was so proud of her. I reckon a lot of people would struggle to have those conversations at 15. It demonstrates her selflessness, and her caring nature, and her hope that this wouldn't happen to another child. She keeps on giving. Keeps on doing. Even now."
Jemima had always fought for social justice, Mr Gazley said.
It would have made her happy to know that sharing her story had inspired thou-sands of people to donate more than $650,000, and counting, for DIPG research.
"We were led by Jemima," he said. "We respected her wishes and let her follow her dreams. We did not once say no. She wasn't going to get to have a whole life – so there was no way we were going to block her from doing anything she wanted to do.
"There's no doubt about it. What I wouldn't give to throw all the money back to the donors and have my daughter back. But if she can help find a cure, or be the cure, then boy – that would give me some peace."
The amount of money flowing into Jemima's Give A Little page kept climbing, even as she slipped into a coma. But Dun was more focused on working out how to fulfill Jemima's wish to donate her tumour to their lab within an unpredictable and tight timeline.
"It was really challenging," he said. "We couldn't travel there, and the techniques required to create a living model of her tumour were logistically challenging.
Auckland was in a Stage 3 lockdown at the time.
"Things progressed quite rapidly for Jemima, and we were struggling to find the right people in New Zealand, because they just don't do this work."
With some renowned Alzheimer's researchers from the University of Auckland ruled out of helping due to the city's lockdown, some "magnificent" Kiwi pathologists – Dr Claire French and Dr Carol Solomon – stepped out of their comfort zones to extract Jemima's tumour in a little hospital in Wellington.
"We exchanged about 800 emails in three days," Dun said. "Time was tight. But the pathologists, morticians, and a wonderful molecular biologist all worked together to get the tumour tissue to Australia in a state that would mean we would be able to have a part of Jemima growing in our lab forever.
And it worked.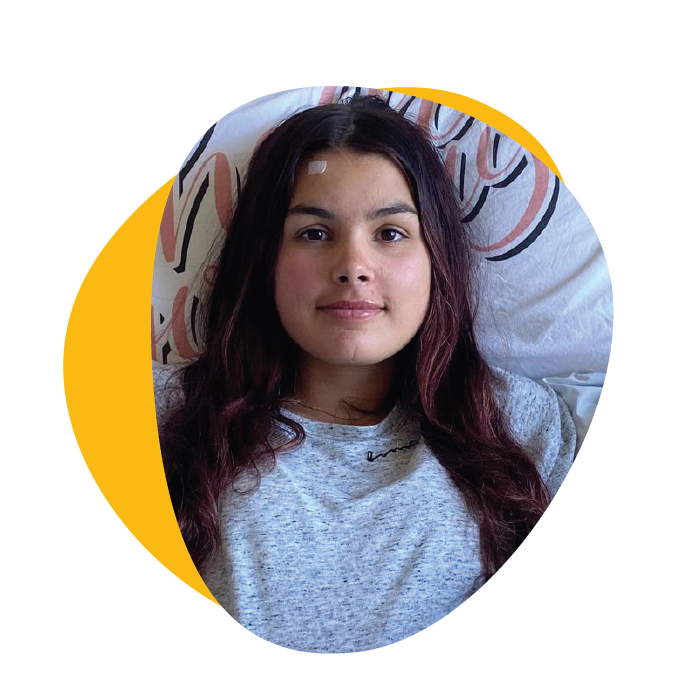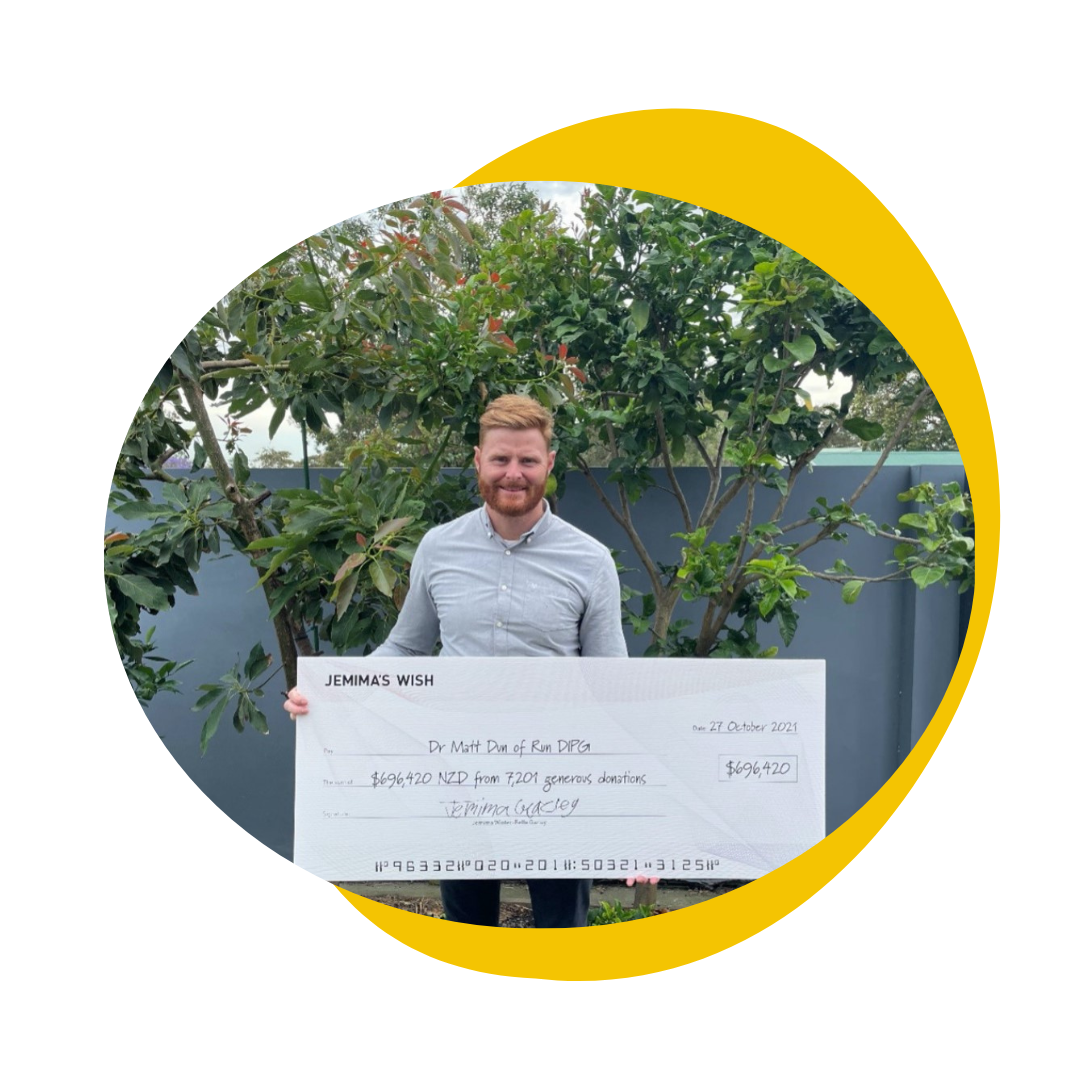 The last part was absolutely devastating for everyone involved. But the hope Jemima created by her selflessness, and her generosity, maturity, compassion… I don't think that an adult would have the capacity to do all of that while facing life's ultimate challenge.
"To have this gift from a beautiful 15-year-old girl has been emotional and really humbling, to be honest."
Dun said they had been able to extract the tissue from various parts of the tumour, which had spread.
"It provides us with the ability to characterise the tumour in different locations in the brain," he said.
"I think the specific contributions of the brain stem play a direct role in how aggressive the tumour is. So to have the matched tumour from different parts of the brain really provides us with the clues to unlock what the brain stem is providing to the tumour.
"If we know that, we can block some of those signals when we get a diagnosis, and maybe that means the only therapy we have – radiotherapy – may work better."
Dun said they were already seeing, through brain tumour tissue donations likeJemima's, why researchers had been unable to develop treatments for DIPG in the past 60 years.
"The tumours growing in the lab grow completely differently when they are taken out of the brain stem," he said. "Everyone has been doing research on cells growing a lab in a plastic dish. But being able to be provided with almost fresh tissue from a patient is unlocking the differences and the clues we just didn't know about before."
It is a rare day that Dun does not get a phone call from a distressed parent somewhere in the world who is searching for answers or advice.
"Every day I talk to a family," he said. "There is the complete hopelessness associated with a diagnosis. There is absolutely no treatments. Not much time. So parents reach out for a friendly ear – an experienced ear – but also someone that has been through it and can unpack all the complexities and talk about what is happening globally. "That's what I do."
The money from Jemima's fundraiser, which closes Friday, would support Dun's team continue their research, as well as support other DIPG researchers nationally and globally.
"Run DIPG wants to find and support the very best ideas across the country," he said. "There is hope, where there wasn't any. And I sincerely do think there is hope. We just have a long way to go. We all hope the next family affected are the lucky ones."
Jemima's mother hoped her daughter would be remembered as a teenage girl, turned warrior "The player dealt a crap hand, who went on to bluff the devil himself into folding."